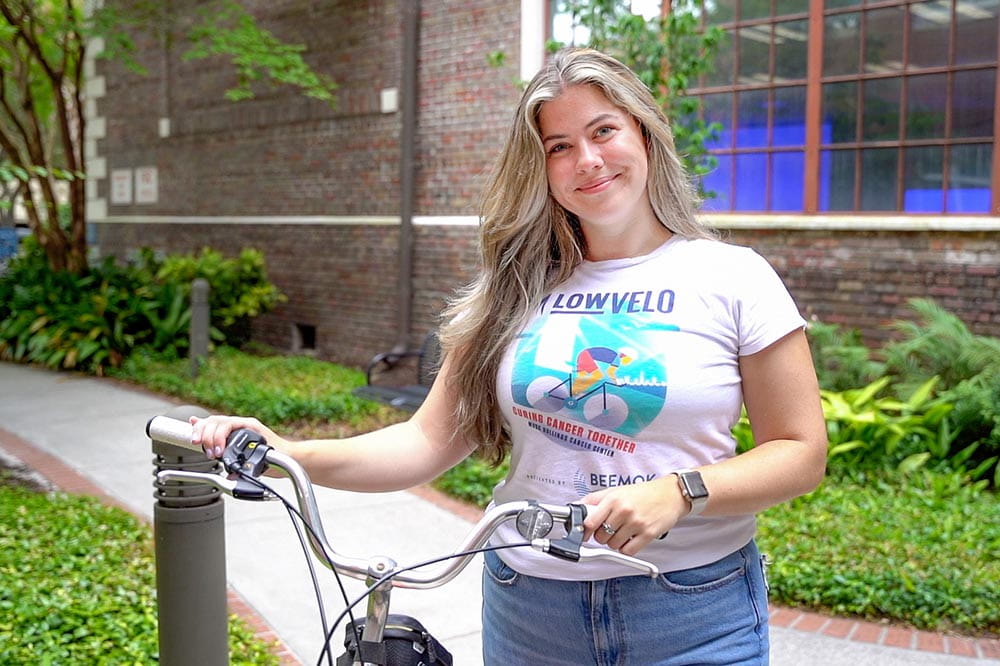 From anatomy lab to battle with cancer, MUSC student shows gratitude by riding the LOWVELO bike | MUSK
At first glance, Bridget Horgan is your typical MUSC student – ​​bright, eager and ready to learn. But what you don't see on the surface is the courage and determination that got him through his first year of graduate school.
In May 2021, Horgan was ticking things off her to-do list before leaving her New York home to begin her doctoral program in occupational therapy at MUSC College of Health Professions. "I went to doctor's appointments before I moved here just to get checkups and get my shots up to date and stuff," she said. "And my doctor felt a lump in my throat."
Horgan found herself moving to a new town and school and finding her way through campus to MUSC Hollings Cancer Center. Horgan met with surgical oncologist Mahsa Javid, MD, Ph.D., who suggested he have the mass removed quickly. "A week and a half after meeting the surgeon, she said we were going to do the surgery," Horgan said. "I was like, 'Oh my God, I have an anatomy exam in a week.'"
Horgan postponed her anatomy lab so she could do it the day before her surgery. The next day she woke up and had half of her thyroid removed, half of her isthmus, which is the part of the thyroid gland that connects the left and right lobes, and the surrounding lymph nodes. When the results came back a few weeks later, she learned that the lump that had thrown the start of her graduate school career into a tailspin was thyroid cancer that forms in the follicular cells and which, thankfully, is very treatable.
"I knew my type of cancer had a good prognosis," she said. "It was still a scary experience, being 23, moving 12 hours from my house and not really knowing what to expect."
A year later, however, she celebrates. "As of June 15, I have been cancer free for a year." Horgan smiles broadly, recounting her blessings since becoming a regular at Hollings Cancer Center. So far there have been no signs of it spreading to surrounding lymph nodes, but the concern is still there.
"There's always the stress at any of my follow-ups that they're going to have another ultrasound or blood work and find something else," Horgan said. Despite another scare in March, when the doctor responsible for her follow-up care, Jyotika Fernandes, MD endocrinologist at Hollings, found something concerning in her lymph nodes, she remained cancer-free and knows that the appointment cycle you and extra care will forever be part of this new normal.
"I see life the way I have been very privileged to receive the care I have provided here," she said. "Not everyone has access to care and I hope to be able to advocate for other cancer patients, future and current, so that they can receive the same care as me."
Ride for Cancer
Lawyer, she did. For the second year, Horgan is leading a team of LOWVELO riders. His little peloton of four cyclists last year, named "The Training Wheels", has now grown to 16 classmates looking to help in the fight against cancer – together. "I think some friends have been inspired by what we've done and also have their own whys and stories to tell," she said. " It's awesome. Everyone is so passionate and has all these amazing fundraising ideas.
Passion pays. The Training Wheels peloton is currently at the top of the fundraising charts.
"That's exactly what LOWVELO is," said event director Rachel Haynie, of the annual fundraising event where 100% of dollars raised by runners are donated to research. about cancer in Hollings. "Bridget, through her story, inspired an entire team of people to work together to raise funds for a great cause: life-saving cancer research."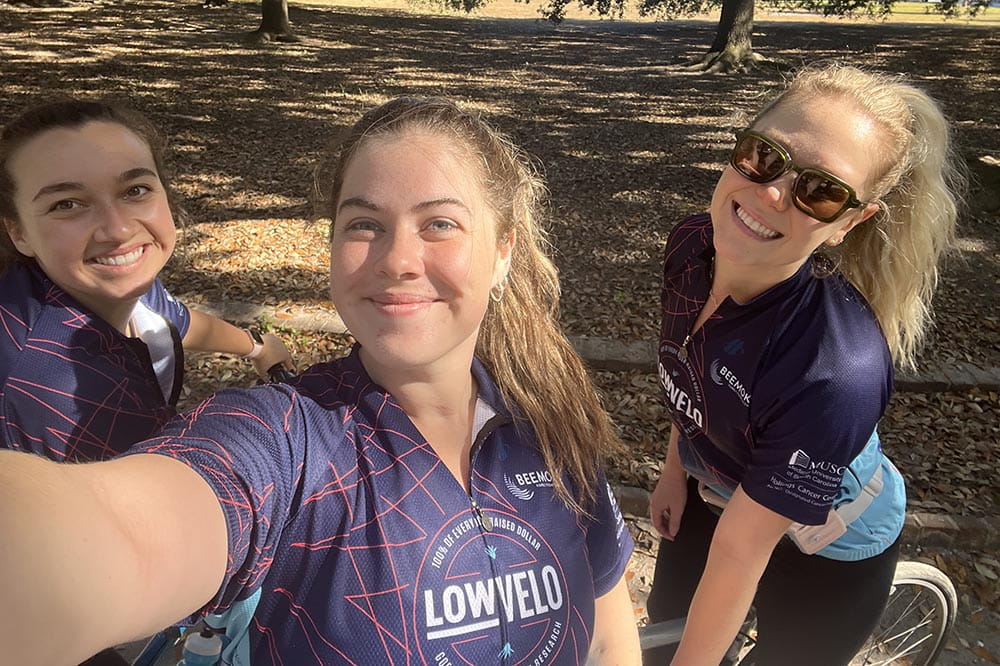 This year marks the third annual LOWVELO event, which will be held on November 5th. It has grown to include more activities and options for people who want to participate. The longer routes (23, 57 and 100 miles) will start at Brittlebank Park. The shorter 10-mile Family Fun ride will begin and end on the Isle of Palms, where everyone from all routes will join in celebrating and honoring cancer survivors and those lost to the disease. Hollings doctors and scientists will be on hand to talk about exciting research and treatments that are transforming care.
"We're planning on having the biggest block party ever," Haynie said of this year's finale. "What I love most about LOWVELO is how it gives everyone the opportunity to raise money for a great cause while bonding to learn what we can all do together to make a difference. difference in a disease that touches so many lives. All of our runners, volunteers, virtual participants and stationary bike participants have their own whys. The day is all about sharing these whys.
A fun new feature this year is a series of lunches and learnings to help people adopt healthier lifestyles to prevent cancer and other chronic diseases. The first will take place on August 9 and will cover the top five nutrition tips. It ties into the theme of LOWVELO as a lifestyle, Haynie said. "It's more than a one-day event. We hope people will make new friends and bond when they go out for a ride and be more active throughout the year.
There are different ways to participate for people of all fitness levels, including stationary cycling lessons and volunteering, but for those who want to have a stretch goal and do one of the four routes, there are several events. training leading up to the big day that will help prepare the runners.
Charleston Cycle Chicks, Charleston County Parks, and She Tris are partnered with LOWVELO, and attendees can visit the website to see upcoming events.
LOWVELO will also bring "Glow Blue Week" back to the MUSC campus in August. The event serves as a way to celebrate the cause with MUSC faculty, staff, students and patients. There will be special incentives for anyone who takes up the challenge of being a LOWVELO ambassador on campus.
Horgan first discovered LOWVELO at this event. She thought it sounded fun, and when she realized all the money raised had gone to lifesaving cancer research at Hollings, she knew she had to get involved.
"I ride LOWVELO for those who have already lost their battles with cancer, those who are still battling and for those who haven't even been diagnosed yet," Horgan said. "I hope the money we raise will go towards some amazing research here in Hollings and that this event can somehow spark a change so that one day getting a diagnosis won't be so scary."