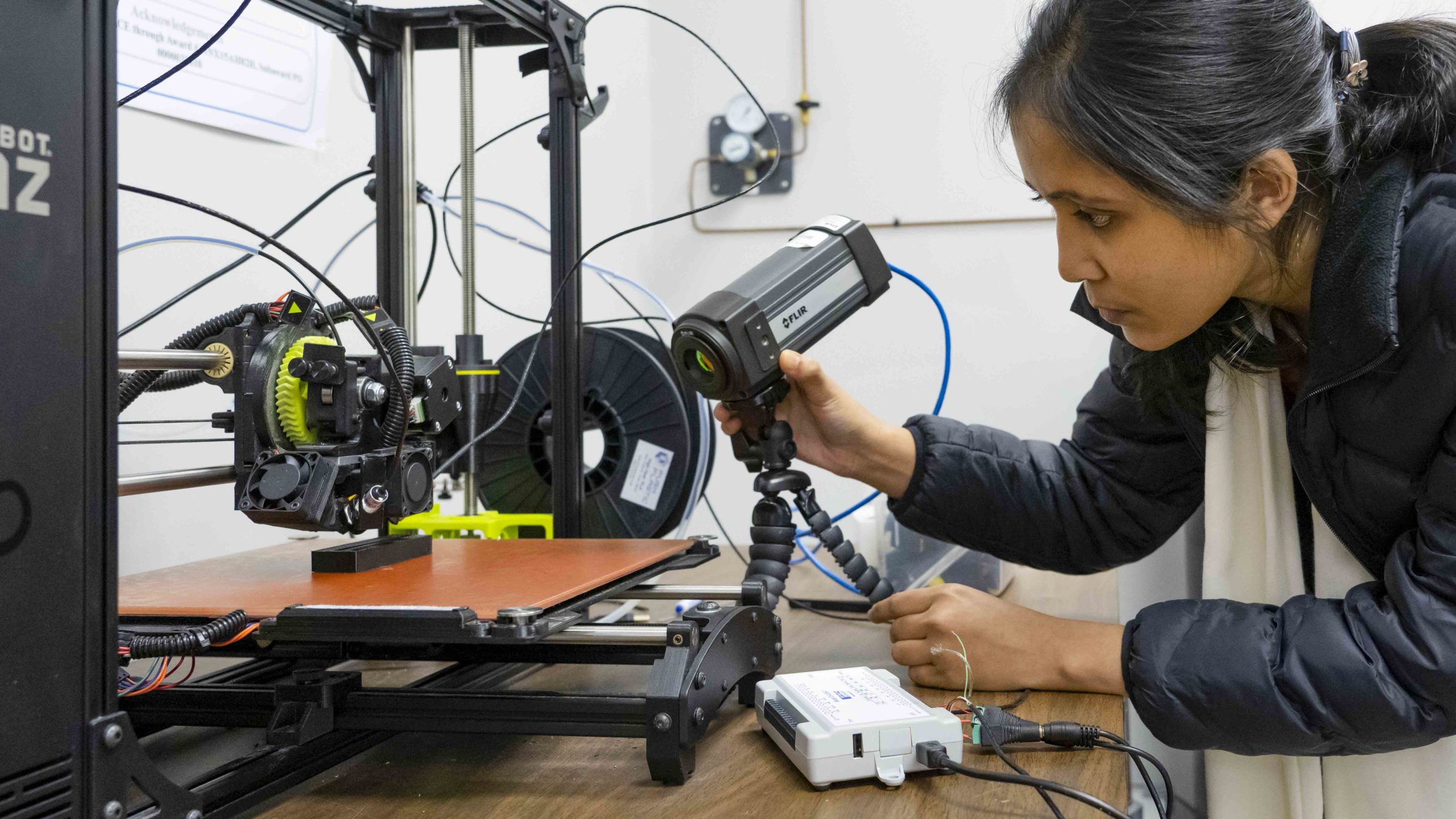 Doctoral student Rifat-E-Nur Hossain thrives in research, studies and leadership
[ad_1]
For students enrolled in graduate programs at the College of Engineering and Science (COES) at Louisiana Tech University, Rifat-E-Nur Hossain is a household name. When the doctoral student is not working on groundbreaking nanosystems and manufacturing research, she is fulfilling her role as the public relations manager for the Graduate Student Council of the College of Engineering and Science, helping to engage the community. graduate students.
The Graduate Student Council is an official representative body made up of elected officers who organize seminars, workshops, competitions, and cultural and recreational events. These events provide students with networking and networking opportunities to support scholarly activities and create better communication among members of the COES graduate studies community.
After being elected President of Advertising last spring, Hossain helped organize a career conference that included a ceremony honoring 2020-2021 graduates and outstanding teaching assistants. This term, she is working with the rest of the board to plan events, including an upcoming COES Symposium which will include a seminar on cutting-edge research topics covered by Louisiana Tech faculty and a poster competition for students. COES graduate students.
"The Alumni Council serves an important purpose by representing students and organizing activities to enrich the experience of graduate students," said Dr. Collin Wick, Associate Dean for Graduate Studies at the College of Engineering and Science. "Rifat has done a tremendous job as one of the main ambassadors of the board and has shown great leadership in helping to advance its mission. "
Hossain, who is a student member of the Louisiana Tech Louisiana Materials Design Alliance (LAMDA) cohort and is pursuing a doctorate in engineering, knows the challenges graduate students face and understands that having a community of people to lean on can help. improve difficult situations.
"I am happy to be a Public Relations Officer on the COES Graduate Student Council because my job allows me to connect and get to know my fellow graduate students and alumni. Being a board officer allows me to work for COES graduate students and thus serve the University. We aim to create better communication between students of the various COES graduate programs, to share their research and achievements, and to address their academic concerns. We try to design our activities in such a way as to help graduate students in both their graduate and postgraduate professional life.
Hossain divides the time she devotes to her studies between preparing her thesis, immersed in research on thermoreflectance, a thermometric technique that measures the thermal transport properties of bulk materials and nanosystems, and work on the LAMDA research.
As a member of the LAMDA cohort, Hossain is part of a $ 20 million National Science Foundation project to transform research and education in advanced manufacturing and materials across Louisiana. For the project, she is working with its doctoral director, Dr Arden L. Moore, associate professor of mechanical engineering and nanosystems engineering at the University's College of Engineering and Science and the Institute of Microfabrication ( IfM), to help build the calibration of materials and process monitoring systems for additive manufacturing.
His project, the Science Enabler-1, i.e. the monitoring of additive manufacturing processes, includes the development of a in situ Real-time temperature monitoring system to realize defect detection in additive manufacturing.
"It's exciting to see the pieces of a project as big as LAMDA come together," she said. "So far, we have developed a monitoring system and defect detection technique for a commercial 3D printer based on fusion deposition modeling, and we are eager to modify and integrate our system with the machine. additive manufacturing of friction stir welding from MELD Manufacturing. Our monitoring technique as well as the method for calibrating the emissivity of materials have already been peer-reviewed and accepted for publication in the Additive manufacturing newspaper."
"Rifat is an excellent student who strengthens the research business at Louisiana Tech with her strong work ethic, attention to detail and natural problem-solving skills," added Moore. "She does not shy away from challenges or opportunities to develop into new areas of research. These intangibles, combined with the engineering and science skills she acquired through her studies at Tech and hands-on research at IfM, make me excited about what the future holds.
[ad_2]