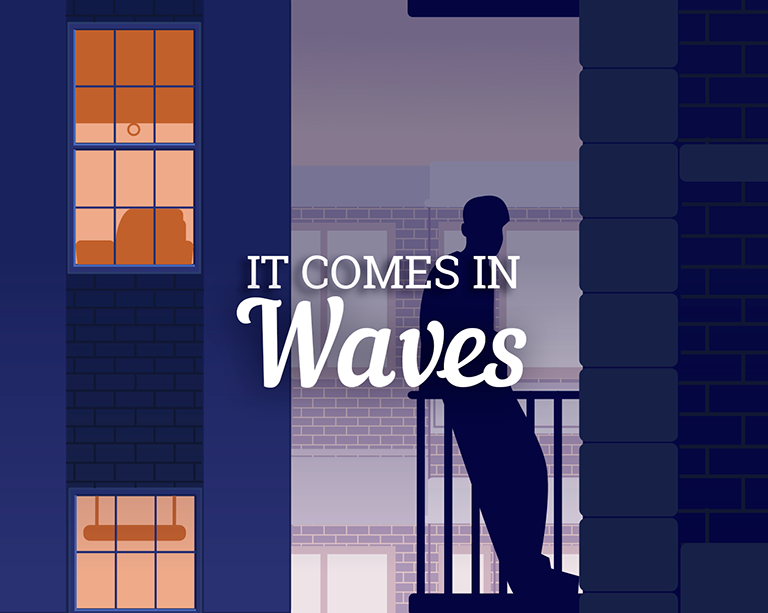 Concordia-designed video game highlights daily struggles of essential workers
A team of researchers from Concordia has released a prototype video game, It comes in waves as part of a larger project on socio-economics and games.
Mia Consalvo, professor of communication studies and holder of the Canada Research Chair in Game Studies and Design, is the executive producer of the game's prototype, which was made available on January 24. The game is set during a global pandemic and deals with themes of social class.
The project is funded by the Consalvo Humanities Research Council Insight grant. Consalvo created it alongside a production team of research assistants: Michael Iantorno (MA 19), narrative designer; Lyne Dwyer, programmer; Tamyres Lucas (MA 21), main artist; and Courtney Blamey (MA 19), game designer.
"We collaborated on just about every element of the game — one of the great benefits of working in a small team," says Blamey, who is pursuing a doctorate in communication studies. "One of my main tasks was fixing bugs as they appeared in our builds. Another was editing our story.
Available on itch.io, It comes in waves follows the story of Beattie, an essential worker who tries to stay safe while acting as a caregiver at two different facilities at the start of the pandemic.
"I learned a lot during this project," says Blamey. "I had worked in the Twine game engine before, but never to this degree. I learned a lot about the programming language as well as porting heavy work into the engine.
Lucas, a game artist, game researcher, and UX/UI designer, was primarily responsible for designing the artwork.
"It involved character design, background and environment design, as well as the game's open screen and transition screens," she explains. "I had to develop a method to design characters and backgrounds quickly and efficiently since we had a huge amount of them and I was the only artist on the team."