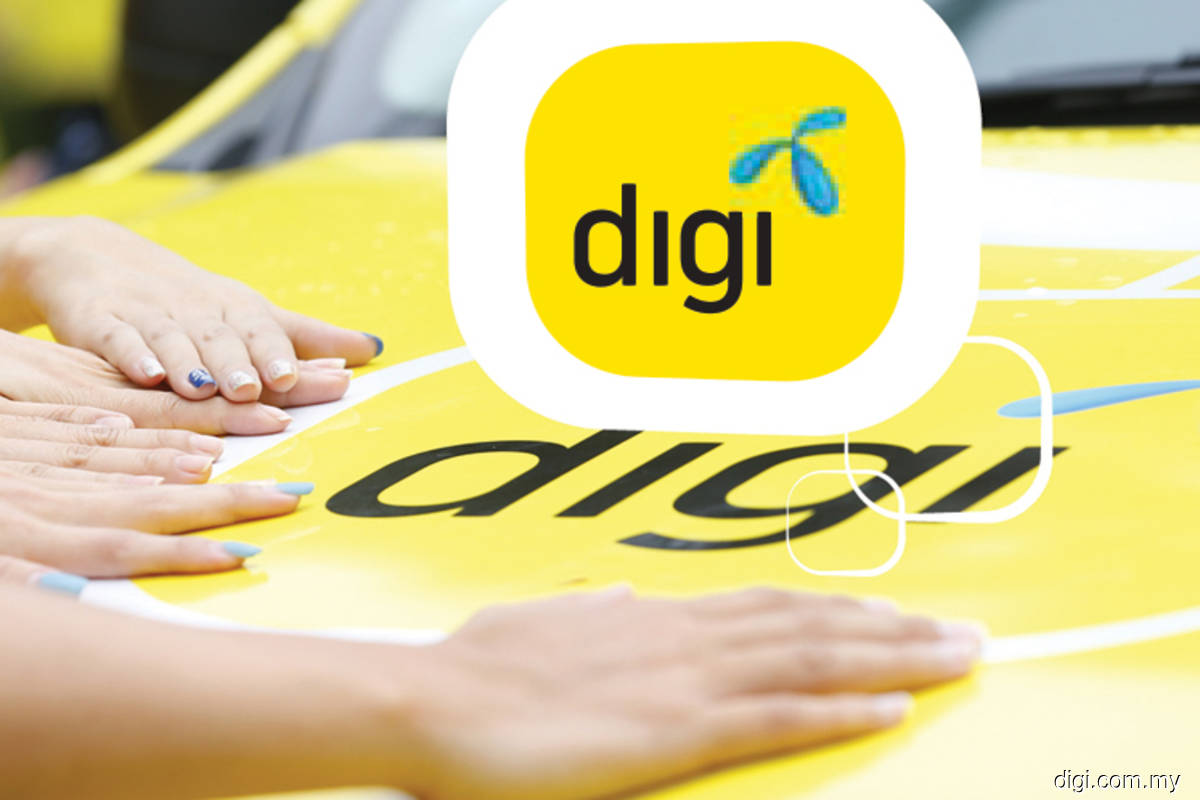 Analysts mixed on Digi target price forecast, outlook after Q2 results
KUALA LUMPUR (July 18): Analysts covering mobile telecommunications network provider Digi.Com Bhd have shown mixed reactions to the latter's target price (TP) forecast and future outlook.
It comes after Digi last Friday (July 15) saw its net profit drop 21.39% to RM220.04 million from RM279.91 million a year earlier, while revenue for the second quarter ended June 30, 2022 (2QFY22) fell 4.92% to RM1.54 billion from RM1.62 billion.
Digi blamed lower profits on one-time prosperity tax and higher net finance costs due to non-cash hedge accounting, while lower revenue was attributed to steady growth in postpaid , business-to-business and fiber segments from quality acquisitions and attractive bundles could not offset prepaid weakness in 2021.
Kenanga Research analyst Ahmad Ramzani Ramli, who upgraded his TP to RM4.25 (from RM3.70), repeated a call to "outperform" to reflect the company's valuation of Celcom Axiata Bhd-Digi post-merger, and said Digi's first half (1HFY22) results were broadly in line with the company's guidance, but fell short of the consensus estimate.
"Its subscribers, in the prepaid and postpaid segments, continued to grow, while the average mixed revenue per user remained stable.
The company reiterated its guidance for a rebound in services revenue in FY22, but expects a slight decline in its earnings before interest, tax, depreciation and amortization (EBITDA) margin on merger costs and inflationary pressures," he said.
Citing key takeaways from Digi's earnings briefing, Ahmad Ramzani, among others, noted that the company remains confident of a full-year services revenue rebound despite a slow start. in 1HFY22, mainly due to the gradual return of migrant workers who were inclined to subscribe to its prepaid plans.
He added that Digi had guided its EBITDA margin to slip slightly from the current level of 48% going forward due to ancillary costs to the merger exercise, as well as higher utility bills. high, while its tax rate could exceed the 33% guided on deferred taxation. and non-deductible expenses.
Despite this, Amhad Ramzani said that Digi refrained from commenting on its plan for Digital Nasional Bhd (DNB), the special purpose vehicle set up by the government for the implementation of 5G, as well as the model of DNB's unique wholesale network.
To recap, it was widely reported that six mobile network operators, including Digi, were set to acquire a 70% stake in DNB recently.
"We see this as negotiations or possibly adjustments with the government on prices and the commitment of annual expenses are still ongoing.
"The company is confident that the Celcom-Digi merger will be completed in 2HFY22. With the Malaysian Communications and Multimedia Commission having given the green light, the only pending approvals are those of Bursa Malaysia and the Securities Commission Malaysia," he said.
Separately, PublicInvest Research analyst Eltricia Foong, who cut its TP to RM3.83 from RM4.05 while maintaining a "neutral" call, said Digi's results were below company expectations. and consensus, representing 43% and 41.5% of the full-year estimates respectively.
She pointed out that Digi's revenue was in line with company expectations, but net interest and tax costs were higher than expected.
"As such, we have reduced our earnings estimates for FY22-24 by 7% to 10%, taking into account higher interest and tax costs," she said.
Looking ahead, Foong said Digi is expected to complete the fiscal year by the end of the year after receiving regulatory approval for the proposed merger with Celcom.
"Based on our preliminary estimate, Digi could see a modest improvement in earnings per share of around 2% post-merger. mainly on the integration phase.
"In the medium term, we believe there are synergies to be exploited in terms of sharing resources, optimizing the network and reducing supply costs, thanks to a better scale of purchases. Based on management's initial estimates, the potential value uplift is approximately RM8 billion through cost and investment synergies," she said.
Hong Leong Investment Bank Research Tan J Young, meanwhile, maintained his "pending" call on Digi with a lower discounted cash flow (DCF) derived TP of RM3.60 (from RM4), after have adjusted the weighted average cost of capital from 5.7% to 6.3% and TG by 1%.
"Pending further clarity on the merger and 5G structure with DNB, the 4.2% dividend yield should support its share price in the near term," he said.
RHB Research's Jeffrey Tan, who cut his new DCF-based TP to RM3.65 (from RM4.10) while maintaining a "neutral" call, said Digi's stock sentiment should be capped until the 5G debacle is completely resolved.
"With Digi's share price down about 22% year-to-date, much of the downside risk for 5G is priced in. That said, pending a better clarity and better guidance, we expect sentiment on the stock to be capped," he said.
Read also:
Digi.Com 2Q net profit drops 21.4% to RM220.04m, declares 2.8 sen dividend